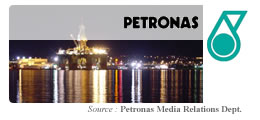 Malaysia LNG Tiga Sdn Bhd, a subsidiary of PETRONAS, has signed Sale and Purchase Agreements (SPA) with Shanghai LNG Company Ltd to supply up to 3.03 million metric tonnes of liquefied natural gas (LNG) annually for 25 years.
The SPA was signed on 31 July 2006. The deal was officially announced by Prime Minister Datuk Seri Abdullah Ahmad Badawi and the Premier of China, His Excellency Wen Jiabao in Nanning, China during the bilateral meeting on 30 October 2006.
The signing of the SPA marked a major breakthrough for PETRONAS into China's energy sector. This is PETRONAS' first LNG deal with China. The deal will further enhance the economic ties between the two countries.
Shanghai LNG is a joint venture company between Shenergy Group Ltd (55 per cent) and CNOOC Gas & Power (45 per cent). CNOOC Gas & Power is a wholly owned subsidiary of China National Offshore Oil Corporation.
The LNG will be delivered to Shanghai LNG's Receiving Terminal at Zhong Ximentang Island, Shengsi, Zhejiang Province, which is currently under development and targeted for completion by mid 2009.
The LNG will be supplied from the PETRONAS LNG Complex in Bintulu, Sarawak. The PETRONAS LNG Complex is currently the world's largest integrated LNG facility at a single location with a combined production capacity of approximately 23 million tonnes per year (MTPA).
Issued by
Media Relations Department