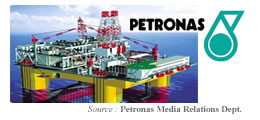 PETRONAS has appointed NAZA Bikers Dream Sdn Bhd as the sole distributor for its limited edition, race-bred PETRONAS FP1 superbike in Malaysia. Enthusiasts will now be able to view the exclusive machines, available in Panache Green, Exotic Black and Misty Grey at the NAZA Bikers Dream showroom located at Lot 1, Jalan 51A/221, Petaling Jaya.
The machines will be made available to the international markets later when the appointment of the distributor is finalised. Only 100 out of the 150 units of the road version of the PETRONAS FP1 manufactured will be available for sale worldwide, enhancing the exclusivity of the machines, and the balance will be used for further development, promotions and racing.

Developed by Malaysian engineers using Formula One-derived technology, the PETRONAS FP1 offers advanced and efficient features such as gear driven dual overhead camshafts and forward facing large throttle bodies and strong but light weight internal engine parts. These and other race-developed features allow for superb engine performance and reliability. The 900cc in-line 3-cylinder four stroke FP1 engine pumps out a class leading power and torque delivering top speed in excess of 270 km/h.
The race version of the PETRONAS FP1 secured two pole positions and two podium finishes to finish 3rd in the 2004 World Superbike Constructors Championship, just behind Ducati and Honda.
For the road version of the machines, four-time WSBK Champion Carl Fogarty, also owner of the Foggy PETRONAS Racing Team provided valuable input to eliminate the fine border between a race and a superior road bike. A total of 150 units of the road version of the PETRONAS FP1 were manufactured to meet the conditions set by the Fédération Internationale de Motocyclisme (FIM) before it could allow the Foggy PETRONAS Racing Team (FPR) to compete in the World Superbike Championship.
The PETRONAS FP1 marks another important milestone for PETRONAS in its pursuit of advanced engineering and technology. It also reflects PETRONAS' success and ability in harnessing the technology and expertise acquired through its involvement in the various fields of motor sports while developing and nurturing the capability of Malaysia's human capital.
PETRONAS had appointed Motosikal dan Enjin Nasional Sdn Bhd (MODENAS) as the local assembler of the PETRONAS FP1. The involvement of MODENAS in the project is another example of the conscious effort by PETRONAS to promote local competency and technical capability in the field of advanced engineering in Malaysia.
Issued by
Media Relations & Information Department