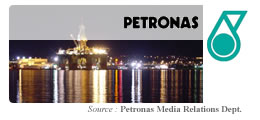 PETRONAS today officially opened its first service station in Indonesia, marking its entry into the the country's retail marketing business.The service station was officially launched by Indonesia's Director of Oil and Gas Processing and Marketing Erie Soedarmo. Also present was PETRONAS Vice President Oil Business Datuk Anuar Ahmad.
The launch marks an important milestone in PETRONAS' business involvement in Indonesia and demonstrates the company's long-term commitment to the development of the country's oil and gas sector. The Group is already one of the more active international oil and gas companies in Indonesia – both in the upstream and downstream sectors. PETRONAS' integrated business in Indonesia includes interests in upstream assets in Karapan, Ketapang, Tanjung Jabung, Jabung, Natuna Sea Block A, North East Madura IV, Madura and Muriah blocks while in the downstream sector, the Group has interest in a consortium that owns and operates two natural gas pipelines in Sumatra and a lubricants marketing outfit.
The service station, located in Cibubur, East Jakarta markets high octane fuel products under the brand names Primax 92 (92 octane) and Primax 95 (95 octane) as well as PETRONAS range of Syntium and Sprinta lubricants. The service station is also equipped with a wide range of facilities to provide added convenience to its multitude of customers. The facilities include a convenient store, a drive through fast food outlet, a bakery, a cafe, banking facilities as well as laundry drop-off and pick-up services. The service station came into operation last December.
Pending approval by the Indonesian government, PETRONAS is also gearing up to supply and distribute Public Service Obligation products such as Gasoline 88 (Premium) and Diesel (Solar) through its retail outlets in Indonesia.
PETRONAS will initially focus its retail business in the Jakarta, Bogor, Depok, Tangerang and Bekasi (Jabodetabek) regions before expanding to other parts of Java, Sumatra, Kalimantan and eastern Indonesia with some 200 service stations planned by the end of 2010.
Issued by
Media Relations Department