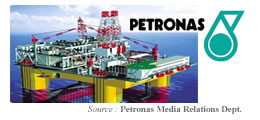 PETRONAS is pleased to announce that it has acquired, through its overseas exploration and production subsidiary, PETRONAS Carigali Overseas Sdn Bhd, the entire share capital of Kerr-McGee Indonesia, Ltd (KMI), for US$ 170 million. KMI is a subsidiary of Kerr-McGee Corporation, an Oklahoma City-based energy and inorganic chemical company listed on the New York Stock Exchange.
KMI holds a 30 per cent interest in Jabung Block which covers 5,339 square kilometres (sq km) onshore South Sumatra in a prolific oil and gas producing area. The Jabung Block has significant oil and gas reserves, with five fields producing approximately 24,000 barrels of oil per day (bopd).
The Jabung Block is also committed to supply gas through a gas sales agreement to Singapore. The gas supply is estimated to commence during the third quarter of 2003 at an initial rate of 68 million standard cubic feet per day (mmscfd) with a plateau rate of 135 mmscfd by 2009.
The acquisition of KMI marks a significant extension of PETRONAS' activities in Indonesia, providing it with its first oil production in the country. It also provides PETRONAS the opportunity to play a more active role in the supply of gas to the growing markets within Indonesia and the ASEAN region. This acquisition also signifies PETRONAS' long term commitment to invest and actively pursue commercial opportunities in Indonesia.
PETRONAS' other upstream interests in Indonesia include Ketapang Block and Karapan Block, located offshore East Java and Tanjung Aru Block, located offshore Kalimantan.
Issued By
Media Relations & Information Department