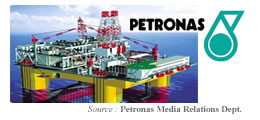 PETRONAS, through its wholly owned subsidiary PC (Lampung II) Ltd., has been awarded a new offshore block in Indonesia, bringing PETRONAS' upstream interests in Indonesia to nine blocks.The Production Sharing Contract (PSC) for the latest block, the Lampung II, was signed last Friday in Jakarta.
The Lampung II Block, measuring about 4,168 square kilometres, is located about 150 km east off the southeastern coast of Sumatra. Under the PSC terms, PC Lampung II will acquire, process and interpret 250 square km of 3D seismic data, drill two exploration wells and undertake geological and geophysical studies over the acreage.
The signing of the Lampung II PSC marks another milestone in PETRONAS' quest and commitment to be a long-term industry player in Indonesia. Apart from this latest acreage, PETRONAS has interests in eight other blocks, two of which are already producing.
A relatively new player in Indonesia, PETRONAS is currently building its oil and gas business portfolio in that country. In addition to the upstream assets, PETRONAS also has interests in a gas transmission pipeline network, petroleum products marketing and retail service station business in Indonesia.
Issued by
Media Relations Department