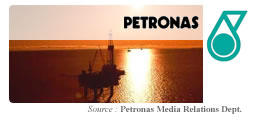 Seremban, 21 May 2004: PETRONAS, Malaysia's national petroleum corporation, was today announced as a Rakan Sukan Rasmi for the SUKMA X Games, which will take place in Seremban, Negeri Sembilan from 28 May to 6 June 2004. The announcement was made by the Menteri Besar of Negeri Sembilan Dato' Mohamad Hj Hasan, here.
As a Rakan Sukan Rasmi, PETRONAS is contributing RM1,000,000 in cash and in kind to the Games. PETRONAS is also the Games' official fuel sponsor. PETRONAS' contribution was handed over to the Menteri Besar by Encik Ibrahim Marsidi, Managing Director/Chief Executive Officer of PETRONAS Dagangan Bhd, at a simple ceremony held at the Royal Adelphi Hotel here. Also present at the ceremony were senior officials from the SUKMA X Games Organising Board and representatives of PETRONAS.
As the official fuel sponsor, PETRONAS will again be introducing the "Smart Pay Card" system for the SUKMA X Games this year. This is for use by 100 official cars during the Games. As proven earlier in the year during Le Tour de Langkawi, the system minimises the time taken by the Games' officials to re-fuel and therefore allowing work to continue with minimum disruptions.
This is the eighth time PETRONAS is participating in SUKMA as a Sponsor. PETRONAS has been sponsoring cash and petrol to the Games since 1988. PETRONAS' contribution is a testimony to its commitment towards the development of national sports, and it hopes that participating athletes would take the opportunity to use SUKMA X as a training platform to further their aspiration to compete in international competitions.
The SUKMA X Games is hosted by Negeri Sembilan and is expected to attract about 7,000 participants from 17 States. Other contingents include those from the Royal Malaysian Police and Brunei. The Games will see participants competing in over 30 different sporting events. Organised bi-annually, the Games aims to increase the solidarity and relationship among the States, while enhancing the achievement and performance of athletes.
At the ceremony, PETRONAS also handed over its sponsored official merchandise consisting 3,000 caps and T-shirts to be worn by volunteers during the Games. PETRONAS will also supply liquefied petroleum gas for the flame burning of the SUKMA X Cauldron throughout the Games.
Issued by
Media Relations & Information Department