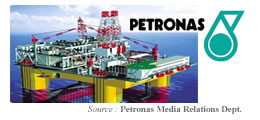 SUKKUR, Pakistan: PETRONAS, Malaysia's national petroleum corporation, today donated goods and equipment to three welfare homes in the Sindh Province as part of its community relation initiatives to assist the needy and the less fortunate in areas where it operates.
The three welfare homes include Darul Aman, which is a shelter for unfortunate ladies and children; the Rehabilitation Centre for the Physically Handicapped Children (RCPHC), which provides academic and vocational training for handicapped children; and the Socio Economic Centre (SEC), which provides vocational training to ladies from poor families.
The Darul Aman home received a water pump, a hot water tank, a deep freezer and an electric water cooler. The RCPHC received 10 units of tricycles and five sets of hearing aid, while the SEC received five units of knitting machines. The goods and equipment, requested by the respective homes, are expected to help the residents in their daily activities.
All the goods and equipment were presented to the three homes by members of the PETRONAS Adventure Team, en route the PETRONAS Silkroad Adventure 2001: Istanbul to Putrajaya expedition. The 4X4 expedition, which started in Istanbul, Turkey, had passed through Iran where the team members, on behalf of PETRONAS, gave a donation towards the building of facilities for two charity organisations. On the way home to Putrajaya, Malaysia, the team will make stop-overs in China and Thailand for other community relation projects.
PETRONAS first made its entry in Pakistan through its trading subsidiary, PETRONAS Trading Corporation Sdn Bhd (PETCO) in 1993. Upstream, through its exploration and production arm PETRONAS Carigali (Pakistan) Ltd, PETRONAS currently operates three blocks, namely the Mubarak, Mehar and East Kandawari blocks, in the Sindh Province.
Issued by
PETRONAS Country Office, Pakistan