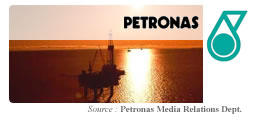 PETRONAS Dagangan Bhd (PDB), the domestic marketing arm of PETRONAS, today signed a Shareholders' Agreement with Assar Senari Sdn Bhd and Shell Timur Sdn Bhd to participate in a joint venture company that will operate and manage an automated bulk petroleum terminal in Kuching, Sarawak.
Under the agreement, PDB will take up 20 per cent equity in the newly formed joint venture, IOT Management Sdn Bhd. Assar Senari will hold 70 per cent equity while Shell Timur will own the remaining 10 per cent.
IOT Management will manage the storage and distribution of petroleum products at the bulk terminal, which is still under construction at Senari, near Kuching. The terminal, which will be owned by Assar Senari's subsidiary Assar Chemicals Sdn Bhd, is scheduled to commence operation in late 2005. It will have an initial capacity of 500,000 kilolitres with a provision for expansion at a later stage of its operation. PDB and Shell Timur will be the principal users of the terminal.
At the same ceremony, PDB also signed a Founding User Agreement with Assar Chemicals as well as an Operating Service Agreement with Assar Chemicals and IOT Management.
At the agreement signing ceremony held in Petrajaya, Kuching, PDB was represented by its Managing Director and Chief Executive Officer Ibrahim Marsidi. Assar Senari was represented by its Director Wan Suleiman Wan Sadi, who also represented IOT Management, Shell Timur by its Managing Director Peter Ho and Assar Chemicals by its Director, Shamsul Anuar Ahamad Ibrahim. The signing ceremony was witnessed by Sarawak Chief Minister, Datuk Patinggi Tan Sri Haji Abdul Taib Mahmud. PETRONAS' Senior Vice President Datuk Ishak Imam Abas was also present.
Issued by
Media Relations & Information Department