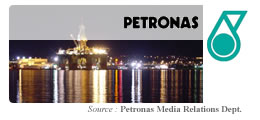 PETRONAS yesterday officially launched its liquefied petroleum gas (LPG) bottling plant in Dong Nai Province, Vietnam, which was acquired from ExxonMobil (Unique) Vietnam Co. Ltd. in September 2005. The plant, PETRONAS' second LPG facility in Vietnam, marks its entry into the country's southern LPG retail market.The launch ceremony, held in the Dong Nai Province in Vietnam, was officiated by Mr. Vo Van Mot, Chairman of the People's Committee of Dong Nai Province. Also present was PETRONAS' Vice President of Oil Business Datuk Anuar Ahmad.
With a production capacity of 62,000 metric tonnes per year, the LPG plant is managed and operated by a newly established wholly owned subsidiary, PETRONAS (Vietnam) Co., Ltd (PVL). The plant is equipped with 21 filling machines and a 3,000-metric tonne storage tank. It employs about 70 people comprising mostly locals from the Dong Nai Province.
PVL oversees the production and marketing of LPG to customers in southern Vietnam and sells its LPG under the brand name GAS PETRONAS. GAS PETRONAS is sold in 12-kg, 45-kg, 48-kg and 50-kg cylinders as well as in bulk, through a network of appointed local distributors and industries throughout Vietnam, with more focus in Vietnam's southern provinces.
The launch of the LPG plant marks another important milestone in PETRONAS' business operations in Vietnam, particularly in the downstream LPG retail business, and is poised to further strengthen PETRONAS' position in the LPG market. PETRONAS paved its way into Vietnam's LPG retail business in 1995, when it formed a joint venture company, Thang Long LPG Co., Ltd with PetroVietnam Gas to import, store, bottle and market LPG in Hanoi and Hai Phong in northern Vietnam. The joint venture has built an LPG export terminal and bottling facility in Hai Phong with a capacity of 35,000 tonnes per year.
PETRONAS first entered Vietnam's oil and gas industry in 1991, and is now actively involved in both the upstream and downstream sectors of the industry. Its upstream interest includes Blocks 01 & 02, Blocks 10 & 11.1, Block 46-Cai Nuoc, Block 46/02, Blocks 01/97 & 02/97 and Blocks 102 & 106. In the downstream sector, PETRONAS has a 50 percent interest in Phu My Plastics & Chemicals Company Ltd, a polyvinyl chloride plant with a production capacity of 100,000 tonnes per year, in Ba Ria-Vung Tau Province.
Issued by
Media Relations Department