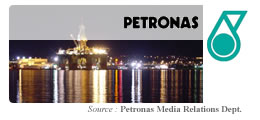 PETRONAS recently signed a Joint Development Agreement (JDA) with BRP-ROTAX of Austria to further develop and commercialise PETRONAS' high performance engine family. Under the agreement, the engines will be developed for commercialisation in BRP-ROTAX's facility in Gunskirchen, Austria commencing November 2005.The JDA is a follow-up from the Framework Agreement and Letter of Intent that were signed in March and July respectively this year, formalising the mutual intent of both parties to explore the commercial feasibility of the PETRONAS engine technology and to establish a long-term strategic partnership.
The agreement marks yet another milestone in PETRONAS' involvement in the world of motor sports where the Company has gained many benefits in terms of technology advancement and know-how, which in turn have resulted in technical deliverables such as the E01 automotive engine, the GP1 motorcycle engine and the FP1, Malaysia's first superbike.
BRP-ROTAX (www.brp.com), a wholly owned subsidiary of Bombardier Recreational Products Inc. (BRP), is a leading developer and manufacturer of recreational engines. The company has also designed and developed engines for various applications including motorcycles, general aviation aircraft and go-karts. In business for more than 85 years, BRP-ROTAX is recognised worldwide as a leader in the development and manufacturing of engines for the motorised recreational vehicles industry. BRP-ROTAX's core competencies include developing and launching market-shaping engines as well as integrating state-of-the-art engine technologies and engine applications destined to a wide range of recreational markets.
BRP-ROTAX was appointed by PETRONAS in 2003 to perform a technical audit on PETRONAS' 900cc superbike engine prior to the production of the FP1 superbike.
Issued by
Media Relations Department