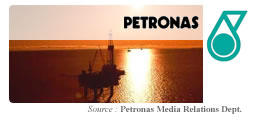 PETRONAS today formalised a Gas Sales Agreement (GSA) with Keppel Energy Pte Ltd, a wholly owned subsidiary of Keppel Corporation of Singapore for the supply of up to 120 billion British Thermal Unit (Bbtu) per day or up to 115 million standard cubic feet (mmscf) per day of gas for a period of up to 18 years, commencing from middle of next year.
Under the GSA, PETRONAS will supply the gas to Keppel Energy via a new five-kilometre pipeline that will link PETRONAS' Peninsular Gas Utilisation (PGU) Pipeline to the Singapore Gas Transmission System. This pipeline will run from the PGU's metering station at Plentong in Johor to a receiving facility in Singapore. PETRONAS Gas Bhd, a subsidiary of PETRONAS and Keppel Gas, a subsidiary of Keppel Energy, will jointly build this new pipeline that is scheduled for completion by middle of next year.

The GSA is the second supply contract to have been signed between PETRONAS and Singapore power companies. The first contract was signed in 1992 to supply 150 mmscf per day of gas to Senoko Power Ltd for 15 years.
The contract formalised today will further enhance PETRONAS' position in Singapore' significant gas market. The deal also cements PETRONAS' long-standing reputation as a reliable gas supplier to the island nation.

The GSA was formalised at the PETRONAS headquarters in Kuala Lumpur. Signing on behalf of PETRONAS was its President/CEO Tan Sri Dato Sri Mohd Hassan Marican while Keppel Energy was represented by Mr. Choo Chiau Beng, Senior Executive Director of Keppel Corporation. The event was graced by Dato' Seri Dr Lim Keng Yaik, Malaysia's Minister of Energy, Water and Communications, and by Dr Vivian Balakrishnan, Singapore's Minister for Community Development, Youth and Sports & Second Minister for Trade and Industry.
Issued by
Media Relations Department