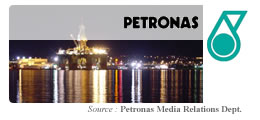 Kuantan, October 4, 2001 – The Prime Minister of Malaysia Dato Seri Dr Mahathir Mohamad today officially opened BASF PETRONAS Chemicals Sdn Bhd's world-scale integrated chemical complex in Gebeng, Pahang, Malaysia.
The official opening ceremony of the complex, owned and operated by the 60:40 joint venture between BASF Aktiengesellschaft of Germany and Malaysia's national petroleum corporation Petroliam Nasional Berhad (PETRONAS), was also attended by the Menteri Besar of Pahang Dato Seri Adnan Yaacob, Member of the Board of Executive Directors of BASF AG Mr Helmut Becks and PETRONAS Chairman Tan Sri Dato' Seri Azizan Zainul Abidin.
The 150-hectare "Verbund" site comprises 12 plants producing acrylic monomers, oxo products and butanediol developed in three phases. The acrylics complex came onstream in July 2000. A complex for the production of syngas, oxo products, phthalic anhydride and plasticisers became operational in April 2001. A butanediol complex, which is under construction, is scheduled to start up in the fourth quarter of 2002. Total investments for the projects at the site will be about US$900 million.
"Both partners have been firmly committed to making this joint venture a success. On both sides, the speed of making decisions to solve issues was a crucial component in successfully realising our ambitious plans. The chemical complex that operates today is a tangible result of this successful joint-venture alliance. The strong support of the Malaysian government for the joint venture provided the impetus for this growth driven strategy which adds clear value to all involved," said Mr Becks, who is responsible for BASF's operations in Asia.
Chairman of BASF PETRONAS Chemicals Tan Sri Dato' Mohd Hassan Marican said: "The completion of the plants within this integrated complex will not only be a catalyst to the industrial development of the eastern corridor of Peninsular Malaysia but will also assist us in realising our aspiration to turn Malaysia into a regional petrochemical centre.
"The chemicals produced by this complex will help ensure the security of supply of feedstocks in the domestic market to support the growth of further downstream manufacturing activities which will lead to the greater diversification of Malaysia's industrial base," added Tan Sri Mohd Hassan, who is also President and Chief Executive of PETRONAS.
The combined production capacity of the plants will be more than one million tonnes per year. About 80 percent of the products will be exported to customers in the Asia-Pacific region. The essential raw materials produced by BASF PETRONAS Chemicals are used for final application in a wide range of high quality end-products including plastics, adhesives, paints, lacquers, paper, diapers, automobile and industrial coatings, pharmaceuticals, fine chemicals, textiles, leather and personal care materials.
"Support from our shareholders and commitment of our employees have contributed to rapid operational readiness. This has brought us a step closer to realising our on-time delivery goals to meet the demands of our expanding base of customers in the Asia-Pacific region," added John Fastier, Managing Director of BASF PETRONAS Chemicals.
Issued by
BASF PETRONAS Chemicals Sdn Bhd