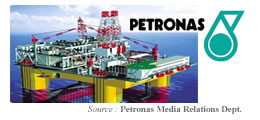 PETRONAS, through its subsidiary PC Madura Ltd, today signed a Gas Sales Agreement for the supply of gas to PT Perusahaan Gas Negara (PGN) from its 25 per cent-owned Maleo field in Indonesia.The Maleo gas field is located within the Madura Offshore PSC area, southeast of Madura Island in the Madura Strait, East Java.
PC Madura Ltd and Santos (Madura Offshore) Pty Ltd, the operator of Madura Offshore PSC, will supply up to 110 million standard cubic feet per day of gas for a period of between 8 and 12 years, which is the expected production life of the field.
The gas will be produced from a leased Mobile Offshore Production Unit (MOPU) and the delivery point will be at an offshore tie-in to the existing East Java Gas Pipeline. With the adoption of the MOPU development concept, the production of gas is expected by middle of 2006, and delivery to PGN is expected to commence later in the year.
This deal reflects PETRONAS' seriousness in positioning itself in the gas market of Indonesia. A relatively new player in Indonesia, PETRONAS is currently building its oil and gas business portfolio in that country.
Apart from its upstream assets, PETRONAS also has strategic equities in a number of downstream ventures, including in a gas transmission pipeline network. It has recently ventured into petroleum products marketing and is now set to commence its service station business in Indonesia.
Issued by
Media Relations Department