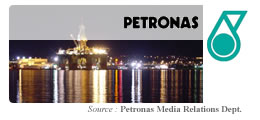 PETRONAS would like to confirm that two separate incidents involving the release of oil and gas have happened at two platforms offshore Peninsular Malaysia operated by ExxonMobil Exploration and Production Malaysia Inc. (EMEPMI).In the first incident, about 60 barrels of crude oil was spilled on 20 March due to what is believed to be a leak in the pipeline at the Seligi A platform, located approximately 250km offshore. The oil has formed a sheen around the platform and is being contained by the operator while a repair and clean-up operation is carried out. EMEPMI has temporarily shut the operations at the platform pending investigation.
The second incident occurred today at the Jerneh platform about 230km offshore, where a certain volume of gas has been released from a well. As a safety precaution, the operator has temporarily shut the operations at the platform pending full investigation. Non-essential platform crew has also been evacuated while a number of personnel remain on board to resolve the problem.
EMEPMI has notified all the relevant authorities on both incidents and is taking all efforts in mitigating the incidents.
Issued by
Media Relations & Information Department