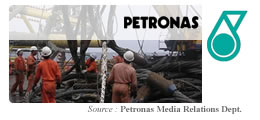 The OPTIMAL Group of Companies (OPTIMAL) is pleased to announce that its petrochemical complex in Kertih, Malaysia, has resumed operations on Sunday, 10 October, after a brief shutdown due to a severe storm that hit the site on Thursday, 7 October. Strong winds had damaged the roof of the control building causing rainwater to fall on the Distributed Control System and control system consoles, affecting the Olefins and Derivatives plants.
The site operations team in Kertih swiftly undertook repair works. Total cost of the damage however is yet to be determined at this juncture.
Start-up is currently progressing smoothly at the Olefins plant whilst the Ethylene plant, the Ethylene Oxide/Ethylene Glycol and the Derivatives unit will commence operations progressively by end of this week. OPTIMAL expects to resume supply of its products to the affected customers soon.
About OPTIMAL Group of Companies
The OPTIMAL Group of Companies (OPTIMAL) is one of Asia's leading producers of petrochemical products. The Company serves key markets in the Asia Pacific region from its world-scale petrochemical facility located in Kertih, Terengganu. Established in July 1998, OPTIMAL comprises three companies, namely OPTIMAL Olefins (Malaysia) Sdn Bhd, OPTIMAL Glycols (Malaysia) Sdn Bhd and Optimal Chemicals (Malaysia) Sdn Bhd.
OPTIMAL manufactures and supplies more than 15 different petrochemical product families and approximately 75 products ranging from basic feedstock of Ethylene and Propylene, to intermediates like Ethylene Oxide, Ethylene Glycol, Butanol and various Ethylene Oxide derivatives. The products also include basic and high performance chemicals.
Issued by
Media Relations and Information Department
Legal and Corporate Affairs Division