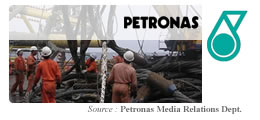 Petroliam Nasional Berhad (PETRONAS) has acquired an additional eight percent equity in Malaysian Refining Company Sdn Bhd (MRC) from Den Norske Statsoljeselskep AS (Statoil), bringing its total shareholding in MRC to 53 percent. MRC owns the second refining train at the PETRONAS Refinery Complex in Sungai Udang, Melaka.
The deal, which also saw the disposal by Statoil of its remaining seven percent equity in MRC to Conoco Asia Ltd, has received the approval from various relevant Malaysian authorities, including the Foreign Investment Committee, Bank Negara Malaysia and the Ministry of International Trade and Industry. The share transfer process is expected to be completed by September.
PETRONAS and Conoco had in February this year signed a Memorandum of Understanding with Statoil towards the purchase of Statoil's equity in MRC. This was followed by the signing of a Share Purchase Agreement a month later in March. When the share transfer process is completed, the new shareholding structure of MRC will be as follows:
PETRONAS : 53 percent
Conoco : 47 percent
MRC was incorporated in May 1991 as a joint venture company between PETRONAS (45 percent), Conoco (40 percent) and Statoil (15 percent) to own the second refining train, which has a capacity to process 100,000 barrels per day (BPD) of both sweet and sour crude oil.
This refining train, also known as PSR-2, was developed as the second phase of PETRONAS' Melaka Refinery project. It is operated by PETRONAS Penapisan (Melaka) Sdn Bhd, a wholly-owned subsidiary of PETRONAS, which also owns and operates the first 100,000 BPD train (PSR-1) at the Complex.
PSR-2 commenced operations in phases from December 1998. Comprising major crude and vacuum distillation units, catalytic reformer unit, hydrocracker, naphta and diesel hydrotreater units, sulphur recovery unit and delayed coker, the train produces liquefied petroleum gas, a range of gasoline, kerosene, jet fuel, fuel oil and asphalt. Its ability to refine imported sour crude provides PETRONAS with greater flexibility in sourcing crude oil for refining. The petroleum products refined at MRC comply with the stringent California Clean Air Act requirements.
Issued by
Legal & Corporate Affairs Division