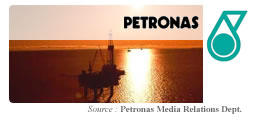 PETRONAS, Malaysia's national petroleum corporation, has appointed Suter Racing Products (SRP) to further develop and manufacture its high-performance motorcycle engine in preparation for the Foggy PETRONAS Racing team's entry in the World Superbike Championship later this year.
SRP is a Swiss-based company with expertise and competency in advanced motorcycle engineering and development as well as the manufacturing of motorcycle components and parts. The company has worked with a number of major motorcycle racing teams and original equipment manufacturers including Aprilia, Kawasaki and Yamaha.
Under the terms of the appointment, SRP will provide engine manufacturing development services to Foggy PETRONAS Racing, further developing PETRONAS' motorcycle engine for both the team's superbike race and road programmes. The race version of the superbike is expected to make its debut in the championship at Monza in May.
PETRONAS' four-stroke three-cylinder 989cc high-performance motorcycle engine has been conceptualised, designed and developed as a prototype GP1 engine by Sauber PETRONAS Engineering AG (SPE), a 40:60 joint outfit between PETRONAS and Sauber. Based on the F-1 technology, the prototype was first unveiled in Japan in April 2001 and was later fine-tuned and fitted into a concept motorcycle for a Malaysia launch last October.

Under the arrangement with SRP, a group of PETRONAS' engineers who have been involved in the design and development of the prototype GP1 engine at SPE will be assigned to work on the on-going development of this project.
The partnership with SRP charts a significant milestone in the Foggy PETRONAS Racing team's fast-tracked ride into the World Superbike Championship. More importantly, it will bring PETRONAS a step closer towards realising its aspiration to commercialise the motorcycle engine and produce Malaysia's first road series of the superbike.
PETRONAS' involvement in the world of advanced automotive engineering began in 1995 when it became the main sponsor for the Sauber PETRONAS Formula One team. This led to the value-added formation in 1996 of SPE, which not only caters to the engneering needs of the F-1 team but also serves as a platform for PETRONAS to nurture and develop Malaysian capability in this field of high technology. Apart from the GP1 motorcycle engine, SPE has also produced for PETRONAS a prototype passenger car engine currently being further developed for commercial production.
Issued by
Legal & Corporate Affairs Division