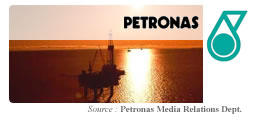 PETRONAS today awarded two Production Sharing Contracts (PSCs) for deepwater Blocks L and M offshore Malaysia to Murphy Oil Corporation and PETRONAS Carigali Sdn Bhd. The PSCs mark the seventh and eighth Malaysian blocks awarded to Murphy, a US-based independent oil and gas exploration company.Under the terms of the PSCs, Murphy Sabah Oil Co., Ltd, a wholly owned subsidiary of Murphy, will have 60 per cent and 70 per cent working interests respectively in the two blocks. PETRONAS Carigali, the exploration and production arm of PETRONAS, will own the remaining 40 per cent and 30 per cent interests. Murphy Sabah will operate the blocks, which are also the 11th and 12th blocks to be awarded under the Deepwater PSC terms.
The adjoining deepwater Blocks L and M are located in water depths ranging from 1,000 to 2,500 metres and are adjacent to the deepwater Block K awarded to Murphy and PETRONAS Carigali in 1999, where a significant oil discovery at the Kikeh field was recently made.
PETRONAS has acquired about 1,400 km of 2D seismic data on the blocks, and current interpretation indicates that the blocks have similar prospects and play types to those found in Block K.
Under the terms of the PSCs, the contractors will acquire and process 500 square km of 3D seismic data in each block and drill two exploration wells in each block to a minimum depth of 7,000 metres. A minimum financial commitment for each block is US$21 million.
Murphy, which is headquartered in El Dorado, Arkansas, is an integrated oil and gas entity with worldwide operations. The company made its debut in Malaysia's upstream sector in 1999 when it was awarded Blocks SK309 and SK311 offshore Sarawak and the deepwater Block K. In 2001, Murphy Oil took over the deepwater Block H from ExxonMobil. Last year, Murphy was awarded Blocks PM311 and PM312 offshore Peninsular Malaysia.
At the PSC signing ceremony held at the PETRONAS Twin Towers in Kuala Lumpur, PETRONAS was represented by its Vice President of Exploration & Production Dato' Shamsul Azhar Abbas. Signing on behalf of Murphy was its President & Chief Executive Officer Mr Claiborne P. Deming.
Issued by
Media Relations & Information Department