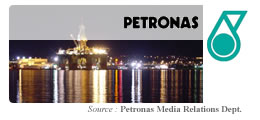 PETRONAS today signed two Production Sharing Contracts (PSCs) with Newfield Exploration Company of the United States and PETRONAS Carigali Sdn Bhd for Block PM318 offshore Peninsular Malaysia and Deepwater Block 2C offshore Sarawak.
Block PM318 covers an area of about 1,600 square kilometres and is situated about 300 kilometres offshore Kertih in water depths ranging from 60 to 80 metres. The block is located in the Malay Basin, which is an established oil and gas producing area.
Deepwater Block 2C is located in the deep water area off the coast of Sarawak in water depths ranging from 200 to 2,000 metres. The block, which covers an area of about 4,400 square km, is relatively under explored. Recent 3D seismic data acquired by PETRONAS within the block revealed the presence of numerous untested exploration opportunities in the area.
Under the terms of the PSCs, Newfield Peninsula Malaysia Inc. and Newfield Sarawak Malaysia Inc., both wholly owned subsidiaries of Newfield Exploration Company, will have 50 per cent and 60 per cent working interests in Block PM318 and Deepwater Block 2C respectively. PETRONAS Carigali, the exploration and production arm of PETRONAS, will own the remaining 50 per cent and 40 per cent interests in the respective blocks.
PETRONAS Carigali is the operator for Block PM318. The two partners will acquire and process 400 square km of new 3D seismic data and drill four wildcat wells in the block to a minimum depth of 7,000 metres. A minimum financial commitment for the block is US$12 million.
Deepwater Block 2C will be operated by Newfield Sarawak. The partners will drill a minimum of two wildcat wells in the block to a minimum depth of 6,000 metres and to reimburse PETRONAS a total of US$7.5 million for the new 3D seismic data that PETRONAS acquired for the block. A minimum financial commitment for the block is US$28 million.
Newfield Exploration Company, which was founded in 1989, has its headquarters in Houston, Texas. It is an independent exploration and production company with worldwide operations. The company is new in Malaysia's upstream arena.
At the PSC signing ceremony held at the PETRONAS Twin Towers in Kuala Lumpur, PETRONAS was represented by its President & Chief Executive Officer Tan Sri Dato Sri Mohd Hassan Marican, Newfield Exploration Company by its President, Mr. David A. Trice and PETRONAS Carigali by its Managing Director/CEO Encik Mohamad Johari Dasri.
Issued by
Media Relations & Information Department