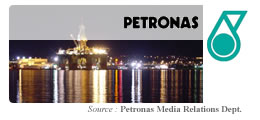 PETRONAS today launched its 2007 Merdeka Campaign to commemorate and celebrate the Golden Anniversary of Malaysia's independence.With the theme of "One Legacy, One Destiny", this major integrated campaign aims at not only celebrating Malaysia's 50 years of nationhood, but also at nurturing and enhancing the spirit of patriotism and the love for the country among all Malaysians. It is a continuation of what has become a PETRONAS' Merdeka "tradition" over the years.
The campaign, launched by PETRONAS' President & Chief Executive Officer Tan Sri Dato Sri Mohd Hassan Marican, will also augment and complement efforts by the authorities and other bodies in making the nation's golden jubilee a memorable and meaningful occasion.
The theme "One Legacy, One Destiny" invites all Malaysians to reflect on independence as a precious gift from the nation's forefathers and to collectively uphold its values and spirit of unity and oneness so that these values could be passed on and appreciated by generations to come.

As in its previous Merdeka campaigns, PETRONAS has lined up several programmes and activities. However, for the nation's golden anniversary, PETRONAS has also included several additional programmes. One anchor activity is a nationwide search for 50 "most passionate Malaysians" through Saya Anak Malaysia contest, which invites all Malaysians to express their deepest thoughts about Merdeka.
The contest is essentially an extension of PETRONAS' efforts to reinforce the communication and reach of the key messages of its annual Merdeka television commercials, which have been well-received by Malaysians over the years.
Participants are required to reflect on and match the messages of PETRONAS' five most favourite past Merdeka TV commercials. They must also pen a slogan in their entries on what Merdeka and being Malaysian mean to them.
A distinguished panel of judges, comprising several of the country's most respected and notable individuals will select 50 correct entries with the most profound slogans as winners of the contest.
For their efforts, the "50 most passionate Malaysians" will be rewarded with a range of 50 national vehicles and motorcycles. Apart from these, the contest also offers 500 consolation prizes.

PETRONAS' other activities include an integrated communication campaign, participation and sponsorship in major Merdeka celebration events, as well as a special staff engagement programme. PETRONAS hopes that the campaign will encourage Malaysians to contemplate on and cherish the nation's independence. More importantly, it hopes the campaign will also help stimulate active discussions and deeper realisation among all Malaysians of the need to remain united to achieve their dreams, aspirations and common destiny.
Issued by
Media Relations Department