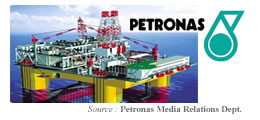 ASEAN Bintulu Fertilizer Sdn Bhd (ABF), a subsidiary of PETRONAS, today signed a Shareholders Agreement with Namhae Chemical Corporation (NCC) of Korea to set up a joint venture melamine production facility in Bintulu, Sarawak. The facility, which will be Malaysia's first, will have an annual production capacity of 15,000 metric tonnes.
Under the agreement, ABF and NCC will form a 50:50 joint venture company to be called ABF Namhae Melamine Sdn Bhd, with an authorised capital of RM150 million. The cost of the project is estimated at RM150 million and will be funded by shareholders equity and third party loans.
Under the project, the joint venture company will relocate NCC's existing melamine plant in Yeosu, Korea to a new site adjacent to ABF's ammonia and urea plants in Bintulu. The project is expected to be completed and commissioned in early 2006. ABF will supply urea as feedstock to the melamine plant and will operate the plant on behalf of the joint venture company.
The signing of the agreement marks a major milestone in ABF's 20-year history. Not only will the plant be the country's maiden melamine venture, it also signifies ABF's first diversification into further downstream, value-adding products.
Melamine is an organic chemical product manufactured from urea and comes in the form of a white crystalline non-toxic powder. It is mainly used as a component in the manufacturing of a wide variety of products including paints, adhesives, decorative laminates, water-resistant chipboard and plywood. Melamine is also used in the formulation of moulding powders for the manufacturing of electrical components and unbreakable tableware.
The shareholders agreement was signed in Kuala Lumpur where ABF was represented by its Chairman Tan Sri Dato Sri Mohd Hassan Marican, and NCC by its President Mr K. T. Jang.
Issued by
Media Relations & Information Department