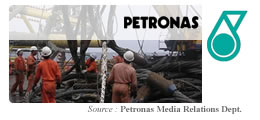 PETRONAS is pleased to inform that China's carmaker Nanjing Automobile Corporation (NAC) and Brilliant Culture Group Limited (BCG) have reached an agreement to jointly manufacture PETRONAS' EO1 engine for commercial use. The project is scheduled to take off in December 2006 with production expected to commence in 2009 with an annual production capacity of 100,000 units.PETRONAS will be the technology provider to the project and will provide support through its R&D centre in Malaysia. The cooperative parties are currently exploring the possibility of establishing an engine R&D laboratory in China.
The agreement to embark on the project was announced by Prime Minister Yang Amat Berhormat Dato Seri Abdullah Ahmad Badawi in Nanning, China today.
NAC is a state-owned corporation and one of the largest automotive industrial enterprises in China. BCG, a consulting firm in China, will co-invest with NAC in the manufacturing facility for the engine.
PETRONAS, NAC and BCG signed a Letter of Intent in September 2005 to assess the use of PETRONAS EO1 engine technology for the carmaker's vehicle line-up. The E01 engine, a result of PETRONAS' involvement in Formula One, is an aluminium gasoline engine family with a very compact design. It has two bores, two strokes and three displacements (1.8L, 2.0L to 2.2L). It is an in-line 4 cylinder engine with 16 valves, DOHC, VVT and EMS, and emission standard designed for Euro V.
Issued by
Media Relations Department