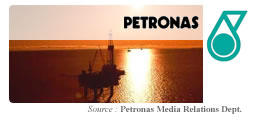 PETRONAS, together with partners Korea Gas, Samsung and LG International, has been awarded a Production Sharing Contract (PSC) by the Timor Sea Designated Authority (TSDA) for an offshore exploration block in the Joint Petroleum Development Area (JPDA) between Timor Leste and Australia.The PSC for Block 06-102 was signed in Dili today. PETRONAS, through subsidiary PC (Timor Sea 06-102) Ltd, holds 50 per cent equity in the PSC and will be the operator of the Block. The remaining equity is shared by Korea Gas (30 per cent), Samsung (10 per cent) and LG International (10 per cent).
Block 06-102 covers an area of 4,125 square km and is located about 450 km from Darwin, Australia and about 250 km off the shore of Timor Leste. It is the first Block to have been awarded by the TSDA.
Under the PSC terms, the contractors are committed to acquire, process and interpret 300 square km of 3D seismic data, undertake geological and geophysical studies and drill three exploration wells during the first three years of the Block's exploration phase. The minimum financial investment for these exploration activities is US$40.5 million.
The PSC marked PETRONAS' entry in the Timor Leste/Australia's upstream sector. PETRONAS and partners are optimistic of the commerciality of the block's hydrocarbon accumulations.
Issued by
Media Relations Department