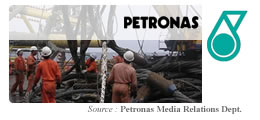 PETRONAS Dagangan Bhd (PDB), the retail arm of PETRONAS, today unveiled an improved version of its PRIMAX motor gasoline which has been enhanced with new formulation to give motorists a superior performance petrol. The new fuel, blended with the latest generation additive package to optimise engine performance and protection, was launched by PETRONAS Chairman Tan Sri Dato' Seri Azizan Zainul Abidin in Kuala Lumpur.
A key component of the new formulation is its unique friction modifier (FM), the first of its kind in Malaysia. FM reduces the friction between piston rings and cylinder wall inside the engine's combustion chamber, maximising the use of energy generated by the engine which would otherwise be lost due to the friction. This in turn will result in smoother and faster acceleration, easy start-up even when the engine is cold, and improves fuel economy.
The new PRIMAX, which is suitable for all engine types, was developed in response to demands by motorists for fuel that could maximise their vehicles' performance, yet would give better savings on petrol consumption and maintenance costs. The multifunctional additive composition of the new PRIMAX fulfil these requirements through its detergency, demulsifier and anti-corrosion properties to give the engine increased protection.
The new formulation cleans the engine more effectively. The detergent keeps the engine clean by removing carbon deposits formed in the fuel system and engine, such as at the carburattor, fuel injectors and inlet valves, resulting in better combustion and lasting engine performance. The clean surface is then protected from rusting by the corrosion inhibitor that coats the internal tank with a film of protecting lubricant. A clean engine greatly improves fuel usage and reduces harmful pollutants such as carbon monoxides, nitrogen oxides and unburnt hydrocarbons, which leads to cleaner environment.
The new PRIMAX is developed using a high quality base fuel blended with unique additives. Additives are necessary for modern vehicles to stay in top operating condition. Base fuels by itself is not stable at high temperature and tends to form deposits in fuel system. Therefore, a well-balanced blend of additives is required to clean up the deposits, inhibit the formation of deposits and improve petrol quality.
The new PRIMAX had been tested for its performance and endorsed by internationally recognised and independent laboratories, such as the Institut Francais du Petrole in France and Southwest Research Institute in USA. Stringent tests at these laboratories show that the new enhanced PRIMAX could improve fuel economy up to five per cent as compared to its predecessor.
The new fuel meets the requirements demanded by PETRONAS' own Research and Scientific Services Centre in Bangi, Selangor. The fuel also meets the standards set by international and domestic engine manufacturers such as Mercedes Benz for its M 111 E20 engine, BMW for its 318i engine, and Proton.
The new fuel is a major technological breakthrough in PETRONAS' research and development work to give Malaysians high quality petrol with better fuel economy to meet the changing needs of its customers and at the same time add value to its products and services.
The new PRIMAX is immediately available at all PETRONAS service stations nation-wide, replacing the former PRIMAX fuel.
Issued by
PETRONAS Dagangan Berhad