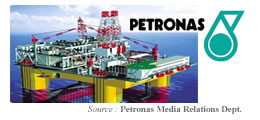 PETRONAS International Corporation Ltd. (PICL) today announced the financial close of the purchase by Transasia Pipeline Company Pvt. Ltd. (Transasia), of a 40 per cent stake in PT Transportasi Gas Indonesia (TGI). TGI is a subsidiary of PT Perusahaan Gas Negara (PGN), Indonesia's state-owned gas transmission company.
Transasia is a joint venture company incorporated in the Mauritius comprising a consortium involving PICL (35 per cent), CONOCO Indonesia Holdings Ltd (35 per cent), SPC Indo-Pipeline Co. Ltd. (15 per cent) and Talisman Transgasindo Ltd. (15 per cent). PICL is a wholly-owned international investment arm of PETRONAS.
On 12 September 2002, Transasia entered into a Share Sales and Purchase Agreement with PGN to acquire the 40 per cent interest in TGI. The remaining 60 per cent will be held by PGN. TGI currently owns and operates the 536-km Grissik-Duri transmission pipeline. The Grissik-Duri pipeline runs from the Corridor Block gas plant to the Duri Oil field. Its current throughput capacity is at 320 mmscfd. Additional facilities are currently being installed which would increase the pipeline's throughput capacity to 430 mmscfd.
Apart from the Grissik-Duri pipeline, TGI will also own and operate the Grissik-Batam-Singapore pipeline, currently under construction by PGN. The 468-km pipeline will be handed over to TGI at a fixed price upon its completion late next year. The Grissik–Batam-Singapore pipeline would transport gas from Sumatera to Singapore for sale to both industrial and residential customers. The pipeline will have a capacity of 350 mmscfd.
These pipelines will provide additional linkages towards an integrated cross-border gas infrastructure in ASEAN, marking another significant step towards the realisation of the Trans-ASEAN Gas Pipeline (TAGP) network, a project which PETRONAS has been instrumental in promoting and implementing. With its Peninsula Gas Utilisation pipeline system, Malaysia currently has the most developed and extensive gas infrastructure in ASEAN, placing the country well in position to become the backbone for the TAGP network and a regional gas hub.
The interest in TGI marks PETRONAS' entry into the gas transportation business in Indonesia and signifies an important move for PETRONAS in the diversification and expansion of its business portfolio in Indonesia, in line with its long-term investment commitment in that country.
PETRONAS' other activities in Indonesia include upstream business and oil trading. Its exploration and production arm PETRONAS Carigali Sdn Bhd currently has interests in the Jabung block onshore Sumatera and the Tanjung Aru block offshore Kalimantan, and operates the Ketapang and Karapan blocks offshore Java. Recently, PETRONAS started receiving natural gas from Indonesia, transported via pipeline from West Natuna in Indonesian waters to its facilities offshore Terengganu.
Issued by
Media Relations & Information Department