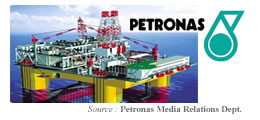 For 300 less fortunate children, this year's Deepavali and Hari Raya Aidil Fitri would be made a little more cheerful when their wishes for festival gifts were granted by more than 300 PETRONAS' employees. And today, all of the children received their dream gifts from their respective "benefactors" at a special breaking fast dinner hosted by PETRONAS at the Kuala Lumpur Convention Centre.Named "Dekat Di Hati", this programme was initiated and designed by PETRONAS not only to continue the corporation's tradition of reaching out to the less privileged members of the community during the festive seasons, but more importantly to nurture and enhance the spirit of giving and volunteerism among its employees. PETRONAS currently has a growing pool of volunteers among its employees who participate in its community relation and development initiatives, giving more meaning to all these programmes.
For the "Dekat Di Hati" programme, PETRONAS' had invited 300 children from eight homes in Kuala Lumpur and Selangor and each of the children was asked to come up with his or her wish list for Deepavali and Hari Raya gifts and goodies. Their wish lists, together with their pictures, were then displayed at the lobby of the PETRONAS Twin Towers. PETRONAS' employees were invited to each choose a child from the display and pledge to fulfill his or her wish.
Initially, only 200 children were selected to be part of the programme. However, the response from PETRONAS' employees was so overwhelming that another 100 children were invited to participate. Among the first to pledge were PETRONAS' President & CEO Tan Sri Dato Sri Mohd Hassan Marican and his wife, Puan Sri Datin Sri Noraini Mohd Yusoff, who chose to fulfill the wish list of Raghavi Raja Rajeswaran, 8, and Shafaris Samsuddin, 8.
Prior to the breaking fast dinner, the children were treated by PETRONAS to visits to PETROSAINS and Aquaria KLCC.
The 300 children were invited from eight homes, namely Taman Pendidikan Anak-Anak Yatim Darul Kifayah, Kuala Lumpur; Asrama Damai Anak-Anak Yatim Kuang, Selangor; Rumah Anak Yatim Sungai Buaya Kuala Langat, Banting, Selangor; Rumah Hope, Petaling Jaya, Selangor; Miracle Home, Ampang, Kuala Lumpur; Action To Mobilise All Humanity Society (ATMAH), Sekolah Pondok Penyayang Raudah, Gombak; and Kelas Pengajian Al Quran Mulia, Cheras.
Apart from this special breaking fast in Kuala Lumpur, PETRONAS through its subsidiaries also held or will hold "buka puasa" events with the less fortunate members of the community in 13 other locations nation wide where the PETRONAS Group operates.
Among them were PETRONAS Dagangan Berhad, which held its "buka puasa" gathering on 14 October at Masjid Al-Fallah, Sungai Dua, Seberang Prai with 200 orphans, single mothers and the disabled.
Down south in Segamat, Johor, PETRONAS Gas Berhad also held its buka puasa gathering on the same day with 40 orphans and poor families while in Bintulu, Sarawak, Malaysia LNG Sdn Bhd will hold its buka puasa gathering with 350 orphans at Masjid Assyakirin this 22 October.
In Kertih, Terengganu, the PETRONAS East Coast Regional Office will fete 70 orphans and 50 poor families at Masjid Kampung Chabang on 24 October while in Kota Kinabalu, Sabah, 100 orphans will be feted at Kompleks Tabung Haji by the PETRONAS Sabah Regional Office on 28 October.
Issued by
Media Relations Department