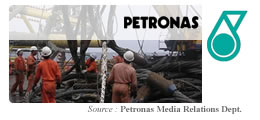 A group of PETRONAS' employees recently went on a goodwill "mission" to Banda Acheh, visiting some 900 orphans and 80 families whose lives and livelihood have forever changed since last December's tsunami.
The group was led by Puan Sri Datin Sri Noraini Mohd Yusoff, the wife of the President and CEO of PETRONAS Tan Sri Dato Sri Mohd Hassan Marican. Puan Sri Noraini is also the President of PETRONITA (the Wives and Women Staff Association of PETRONAS). The group handed over cash and other donations amounting to RM550,000 to the unfortunate children and families to help ease their situation. About RM380,000 of the cash donation was collected from PETRONAS' employees, following a fund-raising exercise initiated by PETRONITA. The rest of the donations came from PETRONITA and PETRONAS.
The two-day visit began on 14 November with a courtesy call on the wife of the Acheh Governor, Ibu Mutia. The group later proceeded to Baiturrahman Mosque, where Puan Sri Noraini handed over cash and new clothes to a group of orphans and victims of the tsunami. The children were also given some duit raya, while the mosque received a cash donation and new prayer mats.
The entourage also visited three other orphanages, namely the Rumah Anak Yatim Babun Najah, Rumah Anak Yatim Kayee Kunyit and Rumah Anak Yatim Daruzzahidin, and donated cash, new clothes, food and daily necessities.
The Rumah Anak Yatim Babun Najah received the entire RM380,000 collected from PETRONAS' employees for the construction of its academic building, while the Rumah Anak Yatim Daruzzahidin received cash donation for the extension of its new surau. Puan Sri Noraini and the entourage also spent some time with the children at these orphanages.
Apart from the orphanages, the PETRONAS employees' entourage also paid a visit to Kampong Gano, one of the tsunami's worst hit areas, where most of its 80 families are still living under tents. They received several months' worth of daily food rations and cash to help alleviate their sufferings.
The group also visited Mercy Malaysia's Core Housing Project in Lhoknga and Lampuk, as well as Mercy Malaysia's Weu Raya Camp.
This "goodwill" visit is an extension of the earlier efforts by PETRONAS and its employees to provide assistance to the tsunami victims. While funding some of Mercy Malaysia's works in Acheh, PETRONAS had earlier sent some professional volunteers under the PETRONAS-Mercy Malaysia Volunteer programme to assist in the reconstruction and rehabilitation efforts in Acheh.
Issued by
Media Relations Department