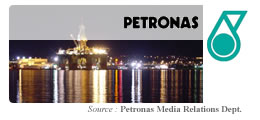 Malaysia LNG Sdn Bhd (MLNG), a subsidiary of PETRONAS, today signed a Sale and Purchase Agreement (SPA) with Hiroshima Gas Co., Ltd. (Hiroshima Gas) to supply up to 82,000 metric tonnes of liquefied natural gas (LNG) to the Japanese company for eight years beginning later this year. The deal increases MLNG's customer base among the Japanese power and gas companies to 12.The LNG will be supplied from the PETRONAS LNG Complex in Bintulu, Sarawak and will be delivered to Hiroshima Gas' receiving terminal at Hatsukaichi in Japan on ex-ship basis. Hiroshima Gas is the seventh largest city gas company in Japan in terms of gas sale, supplying primarily to the Hiroshima Prefecture. The company currently imports LNG from Indonesia with an annual volume of 210,000 metric tonnes.
Earlier today, the two parties also signed a Memorandum of Agreement (MOA) with the City of Sendai that allows for the use of the LNG vessel Aman Sendai to deliver the LNG to Hiroshima Gas. The vessel is one of the medium-sized LNG ships dedicated to transport LNG from Bintulu to the City of Sendai, which is a customer of MLNG since 1997.
The MOA is very significant as it is the first time in the LNG industry that an LNG supplier and two customers agree to the mutual use of one dedicated vessel to transport LNG to the customers' respective receiving terminals. It also reflects the trust and confidence of MLNG's customers of its delivery commitment and capability.
The PETRONAS LNG Complex in Bintulu is currently the world's largest integrated LNG facility at a single location with a combined production capacity of approximately 23 million tonnes per year (mtpa). The Complex houses the three-train, 8.1 mtpa MLNG plant, as well as the three-train, 7.8 mtpa MLNG Dua plant and the two-train, 6.8 mtpa MLNG Tiga plant.
At the signing of the SPA and MOA held in Kuala Lumpur today, MLNG was represented by its Managing Director/CEO, Encik Ahmad Nizam Salleh, Hiroshima Gas by its President, Mr. Hideki Fukayama and the City of Sendai by its Managing Director of Gas Bureau, Mr Nobuyoshi Inaba. Present at both ceremonies was the Chairman of MLNG, Tan Sri Dato Sri Mohd Hassan Marican, and Mr. Yoshio Kato, Deputy Mayor of the City of Sendai.
Issued by
Media Relations Department