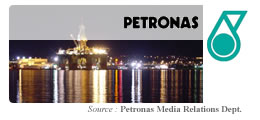 Malaysia LNG Tiga Sdn Bhd (MLNG Tiga), a subsidiary of PETRONAS, today signed a Sale and Purchase Agreement (SPA) with Toho Gas Co., Ltd., (Toho Gas) to supply 520,000 metric tonnes per annum of liquefied natural gas (LNG) for 20 years beginning 2007.
The LNG will be supplied to Toho Gas from the PETRONAS LNG Complex in Bintulu, Sarawak and will be transported from Bintulu to Toho Gas' receiving terminal in Chita, Japan on ex-ship basis by LNG tankers owned and operated by MISC Bhd., a subsidiary of PETRONAS.
Toho Gas, the third largest gas company in Japan, has been importing LNG from Malaysia since 1995 under a 20-year supply contract with Malaysia LNG Sdn Bhd (MLNG), another PETRONAS subsidiary. The contract was signed in 1994 through a consortium of Japanese companies of which Toho Gas is a member. In 2002, the consortium signed a contract with MLNG Tiga for the supply of LNG for a period of 20 years from 2004.
Toho Gas currently receives more than 500,000 metric tonnes per annum supply of LNG from the Malaysia LNG companies under the existing long-term contracts. With the signing of today's SPA, the total supply commitment to Toho Gas now stands at more than 1.0 million tonnes per annum (mtpa). The new SPA is also the first supply deal for Toho Gas as a single buyer.
The PETRONAS LNG Complex in Bintulu currently has a combined production capacity of approximately 23 mtpa. The Complex houses the three-train, 8.1 mtpa MLNG plant, the three-train, 7.8 mtpa MLNG Dua plant and the two-train, 6.8 mtpa MLNG Tiga plant.
At the SPA signing ceremony held in Kuala Lumpur today, MLNG Tiga was represented
by its Chairman, Tan Sri Dato Sri Mohd Hassan Marican and Toho Gas by its President Mr. Koutarou Mizuno.
Issued by
Media Relations Department