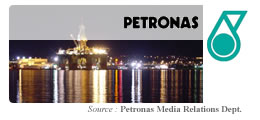 PETRONAS and its partners TotalFinaElf and Gazprom have brought on stream Phases 2 and 3 of the South Pars gas field, located in the Persian Gulf offshore Iran.
The two phases of this field are the first gas project developed by PETRONAS and the two partners to have come on stream in Iran. The total investment in the project was US$2billion. The contract was signed with National Iranian Oil Company (NIOC) in late September 1997. TotalFinaElf, the operator, has a 40 per cent interest in the project, while PETRONAS — through subsidiary PETRONAS Carigali Overseas Sdn Bhd — and Gazprom each has a 30 per cent stake.
At plateau, Phases 2 and 3 of South Pars are expected to produce two billion cubic feet of gas and 80,000 barrels of condensate per day from 20 wells tied into two unmanned platforms. The gas produced will not be treated offshore, but will be transported with the condensate and condensation water to the Assaluyeh treatment plant in south western Iran via two 32-inch, 105-kilometre pipelines. This project encompasses the largest multiphase transportation system of its kind in the world.
The Assaluyeh facility, which covers an area of 105 hectares, comprises four gas processing trains, export compressors, condensate stabilisation and storage units, and sulphur recovery units. The first train has already been commissioned, and the other three will come on stream before the end of the third quarter of 2002. The gas will be supplied to the Iranian domestic network, while the condensate will be sent to an offshore loading buoy for onward export.
Apart from the South Pars gas project, PETRONAS and TotalFinaElf are also involved in the development of Iran's Sirri A and E oil fields, also located in the Persian Gulf. The two fields started production in October 1998 and February 1999, respectively and are now producing close to 100,000 barrels of oil per day.
Issued by
Media Relations & Information Department