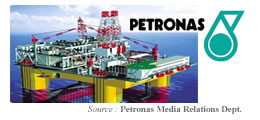 PETRONAS today signed a Memorandum of Intent (MOI) with national carmaker Proton Holdings Berhad to jointly explore the possibility of the use of PETRONAS E01 engine technology for the carmaker's vehicle line-up.Under the MOI, PETRONAS and Proton will also look at the possibility of developing environment-friendly NGV fuel systems for Proton.
The MOI was signed by En Nasarudin Md Idris, Vice President Corporate Planning and Development PETRONAS and Syed Zainal Syed Mohd Tahir, Managing Director of Proton.
"The MOI paves the way for a strategic collaboration between the two national companies to harness and synergise their respective resources and capabilities to exploit, promote and capitalise on indigenous automotive engineering technology. The collaboration serves as a platform to effectively contribute to the country's technological advancement, " En Nasarudin said.
Syed Zainal Syed Mohd Tahir said the collaboration would allow Proton to possibly introduce a larger engine capacity of between 1.8 and 2.2 litres and an environmentally friendly vehicle in Proton's future cars.
"This is a significant partnership, as it not only allows both companies to leapfrog in technology via the sharing of our resources and knowledge, but also allows us to further strengthen Malaysia's capability in the automotive industry. "In the competitive global market, PETRONAS' intellectual property in the EO1 engine will go a long way in contributing to Proton's innovation and new product line-up," said Syed Zainal.
The two-litre PETRONAS E01 engine was one of the results of PETRONAS' involvement in Formula One that provides it with the opportunity to engage in the value-added automotive engineering R & D.
The engine technology is currently being further developed and assessed for possible use by China's carmaker Nanjing Automobile Corporation.
Jointly issued by
PETRONAS and Proton Holdings Berhad