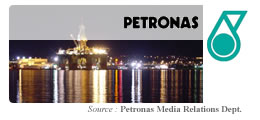 PETRONAS today signed a new Production Sharing Contract (PSC) for Block PM-314 offshore Peninsular Malaysia with Talisman Malaysia Ltd and PETRONAS Carigali Sdn Bhd, following the expiry of the PSC for the block awarded in 1998 to Amerada Hess Malaysia.
Under the terms of the new PSC, Talisman Malaysia as operator will hold a 60 per cent equity interest in the block, while PETRONAS Carigali, the exploration and production (E&P) subsidiary of PETRONAS, holds the remaining 40 per cent interest.
Block PM314, located about 70 kilometres off the coast of Peninsular Malaysia, covers an area of 10,200 square kilometres, in water depths of between 50 and 80 metres. It offers a huge potential for new discoveries as it is situated in the midst of a highly prospective Malay Basin, adjacent to significant producing oil and gas fields.
Talisman Malaysia, one of the most active exploration companies operating in the country, is expected to deploy its cutting edge technologies and worldwide experience to increase oil and gas findings in the block. This, in turn, will provide an opportunity for PETRONAS to acquire the necessary knowledge and ensure an effective transfer of technology to enhance local E&P capabilities.
At the PSC signing ceremony in Kuala Lumpur, PETRONAS was represented by its Vice President for E&P Dato Shamsul Azhar Abbas, Talisman Malaysia by its Executive Vice President Mr Nigel Hares, and PETRONAS Carigali by its Managing Director/Chief Executive Officer Encik Mohamad Johari Dasri.
Issued by
Media Relations & Information Department