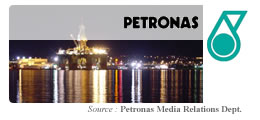 Petroliam Nasional Bhd (PETRONAS) has signed a Production Sharing Contract (PSC) with Sabah Shell Petroleum Company Ltd (SSPC), Shell Sabah Selatan Sdn Bhd (SSS) and PETRONAS Carigali Sdn Bhd for Block SB 303, offshore Sabah. SSPC will have a 50 percent interest in the block, SSS 10 percent, while PETRONAS Carigali, the exploration and production arm of PETRONAS, will own the remaining 40 percent. SSPC will be the operator of the block.
Block SB 303, which is located about 100 kilometres offshore Kota Kinabalu, covers an area of 8,170 square kilometres in an average water depth of 75 metres. Parts of the block have previously been operated by other PSC contractors at various periods from 1966 to 1999. A total of 15 exploration wells had been drilled in the area, resulting in the discovery of the Tiga Papan oil field and the Titik Terang gas field. The block remains relatively prospective, as about 30 small to medium-sized reserves of between 10 million to 50 million barrels of oil have been identified.
Under the new PSC, the contractor will drill two wildcat wells to a minimum aggregate depth of 2,600 metres, and one optional appraisal and development well in the Tiga Papan oil field. They will also acquire and process 600 sq km of new 3D seismic data and reprocess 1,000 line-km of old seismic data as well as undertake an integrated subsurface study of the Tiga Papan field. The contractor's minimum financial commitment to the block is RM28 million.
The contract, which is the 16th Revenue-Over-Cost PSC, was signed at a ceremony held today at the PETRONAS Twin Towers in Kuala Lumpur. At the ceremony, PETRONAS was represented by its Senior Vice President of Exploration & Production, Dato' Mohamad Idris Mansor, PETRONAS Carigali by its Managing Director and Chief Executive Officer, Encik Mohamad Johari Dasri and Shell by SSPC/SSS Managing Director Datuk Lim Haw Kuang.
Issued by
Legal & Corporate Affairs Division