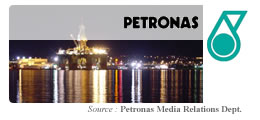 Baria-Vung Tau, 29 June 2001: Phu My Plastics & Chemicals Company Ltd (PMPC), a joint venture between Petroliam Nasional Berhad (PETRONAS), PetroVietnam and Tramatsuco, has commenced the construction of its US$70 million polyvinyl chloride (PVC) plant in the Phu My Industrial Area. A ceremony to mark the beginning of the plant's construction was held here today, officiated by His Excellency Nguyen Tuan Minh, Chairman of the People's Committee of Baria-Vung Tau Province.
The plant, with a production capacity of 100,000 tonnes per year, is strategically located within the petrochemical area of Baria-Vung Tau Province about 85 kilometres south-east of Ho Chi Minh City. It will produce PVC resins of various grades, which are the necessary raw materials for the manufacture of a variety of plastic products.
PETRONAS, Malaysia's national petroleum corporation, holds a 50 percent equity in the joint venture. Its Vietnamese counterpart, PetroVietnam, has a 43 percent stake, while Tramatsuco, the trading arm of the People's Committee of Baria-Vung Tau Province, owns the remaining seven percent equity.
The plant is expected to be completed by the third quarter of next year. Once commercially operational, this crucial import substitution project will not only help to contribute to the development of the Province in particular but to the economic growth of Vietnam in general. The plant is expected to source its feedstock, vinyl chloride monomer (VCM), from PETRONAS' joint venture VCM plant in Kertih, Malaysia.
Based on statistics, the average PVC consumption in Vietnam is just over 1kg per capita, compared with 8kg per capita in developing countries. It is hoped that PMPC's PVC plant will spur spin-offs in plastic fabrication and end-product manufacturing industries for both local and export markets. PMPC will also undertake the necessary measures to train and develop Vietnamese nationals as part of the localisation programme of its workforce.
Today's ceremony marks another milestone in the relationship between PETRONAS and its Vietnamese partners. It also reaffirms the partners' commitment to the long-term growth and development of the plastics industry in Vietnam. For PETRONAS, its involvement in this project — as with its other projects in Vietnam — stands as a testimony of its efforts to help provide a meaningful contribution to the overall development of Vietnam and the Vietnamese people. It is also hoped that the project will assist in enhancing and strengthening the bilateral relations between Malaysia and Vietnam.
Among the attendees at today's ceremony were representatives of the three joint venture partners including PetroVietnam's Vice President Mr Dinh Van Nga, PETRONAS' Vice-President of Petrochemical Business Dato' Abdul Rahim Abu Bakar, and Tramatsuco's General Director Mr Le Hong Phuoc.
Issued by
Legal & Corporate Affairs Division