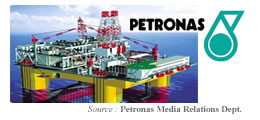 PETRONAS has awarded a Production Sharing Contract (PSC) for offshore Block SB 312 to PETRONAS Carigali Sdn Bhd and Kufpec.Block SB 312, covering an area of approximately 2,900 square km, is located about 80 km offshore Kota Kinabalu in water depths ranging from 60 to 150 metres.
Under the terms of the PSC, PETRONAS Carigali will own a 60 per cent interest in and will operate the block. Kufpec has the remaining 40 per cent interest and will carry 20 per cent of PETRONAS Carigali's interest during the PSC's exploration period.
The award is based on an exploration programme which includes exploration drilling of three wells and an acquisition of 750 square km of 3D seismic data. The minimum financial commitment for the block is US$45 million.
Kufpec, a subsidiary of Kuwait Petroleum Corporation, currently has a few assets in Malaysia, including interests in Blocks SB 301 and SB 302 offshore Sabah and in the Chendor Development Area offshore Peninsular Malaysia.
Issued by
Media Relations Department