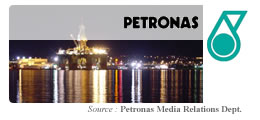 PETRONAS, Malaysia's oil and gas multinational, has officially introduced its range of premium grade automotive engine oils in Switzerland and Liechtenstein with the launch of these products on 20 January in Langenthal, Switzerland.The company had earlier signed an agreement with Switzerland-based Bucher Ag Langenthal, also known as Motorex, to market and distribute PETRONAS' SYNTIUM brand premium grade lubricants in these two countries.
Under the agreement, Motorex will initially market the lubricants, including the synthetic range of SYNTIUM 5000 FS, SYNTIUM 3000S and SYNTIUM 1000S through a select number of gas stations and supermarket outlets of Coop, Switzerland's second largest consumer products retailer.
All products in the SYNTIUM range have been developed using race-proven Formula One technology through PETRONAS' involvement in and close collaboration with the SAUBER PETRONAS Formula One team. They have also been extensively tested and proven in field, racetrack and laboratory environments. A specially formulated SYNTIUM is currently used in the SAUBER PETRONAS Formula One cars.
PETRONAS' SYNTIUM products meet or exceed the stringent requirements of major engine manufacturers including Mercedes Benz, BMW and Volkswagen as well as the American Petroleum Institute (API) SL international performance standards. As a result, the SYNTIUM range offers customers the ultimate engine performance and protection even under the most extreme and demanding driving conditions.
PETRONAS is confident that this collaboration with Motorex will eventually pave the way for its lubricants to enter other European markets in the near future.
PETRONAS' lubricants enjoy a significant share of the Malaysian market. Apart from Switzerland and Liechtenstein, the range of SYNTIUM lubricants are already available in China, Macau, Hong Kong, Indonesia, the Philippines, Thailand, Sudan and South Africa.
Issued by
Media Relations & Information Department