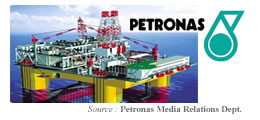 PETRONAS is pleased to announce that its joint venture Chad-Cameroon Integrated Oil Development and Pipeline Project has achieved first oil and pipeline fill operations have begun.
The pipeline, originally targeted for completion in 2004, extends 1,070 kilometers from the landlocked oil fields in southern Chad to a floating storage vessel offshore Kribi in Cameroon, where the oil will be offloaded for export. Construction of the central treating facilities in Chad is ongoing with targeted completion by end of 2003.
PETRONAS has a 35 percent stake in the consortium developing the US$3.5 billion project. Its partners are ExxonMobil's subsidiary Esso Exploration and Production Chad, Inc. (operator, 40 per cent) and ChevronTexaco (25 percent).
To date, the project's overall worker safety record has been exemplary with over 50 million man-hours clocked in without any lost time incidents on project construction and drilling sites.
The project witnessed unprecedented efforts in socioeconomic planning and public consultation. The consultation process, which began in 1993, gave the opportunity for thousands of members of the public to provide their input into the planning and implementation of the project. Multiple-level monitoring by external parties also verified the project's compliance to its environmental and socioeconomic management commitments.
With the commercial commencement of the project, Chad is now poised to join the league of world oil exporting nations.
Issued by
Media Relations & Information Department