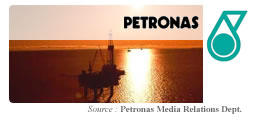 PETRONAS today launched its new premium synthetic motor oil, the SYNTIUM 3000 5W-40, to be marketed by its retail and marketing subsidiary PETRONAS Dagangan Bhd.
The SYNTIUM 3000 5W-40 was launched by PETRONAS President and Chief Executive Tan Sri Dato' Mohd Hassan Marican at the PETRONAS Twin Towers in Kuala Lumpur. Also present at the launch were PETRONAS Dagangan Managing Director and Chief Executive, Encik Ibrahim Marsidi, and Sauber-PETRONAS Formula One drivers, Nick Heidfeld and Heinz-Harald Frentzen.
Also introduced at the launch was the upgraded range of lubricants under the SYNTIUM brand, which has been enhanced with new formulation. With the launch of the SYNTIUM 3000 5W-40 and the introduction of the upgraded products, PETRONAS Dagangan now has the widest range of motor oils under the SYNTIUM family, from basic mineral oils to semi-synthetic, fully synthetic and premium synthetic lubricants.
The new SYNTIUM 3000 5W-40 is fully synthetic multi-grade engine oil specially engineered to provide the ultimate engine protection and performance for engines running under the most extreme and demanding driving conditions. Its unique formulation of synthetic base fluid using race-proven Formula One technology will give PETRONAS' customers various benefits such as immediate lubrication during start-up, minimum oil thickening, and superior protection against engine sludge and harmful piston deposits. This, in turn, will result in improved fuel economy, extended engine life, and savings on maintenance costs in the long run.
The SYNTIUM 3000 5W-40 exceeds the stringent performance standards set by the American Petroleum Institute (API) and the Association de Constructeur Européens de l'Automobile (ACEA). It also meets the approval standards set by international and domestic engine manufacturers such as Mercedes Benz, BMW, Volkswagen, Porsche and Proton.
The enhanced range of SYNTIUM products introduced at the launch were the fully synthetic SYNTIUM 1000 15W-50, the semi-synthetic SYNTIUM 800 15W-50, as well as the new semi-synthetic formulation, the SYNTIUM 800 10W-30, made exclusively for K-class cars.
Each product in the SYNTIUM range exceeds the latest requirement of the API SL international performance standards, currently the highest performance standards for gasoline engine oil. All the new products are immediately available at PETRONAS service stations nation-wide.
Issued by
Media Relations & Information Department