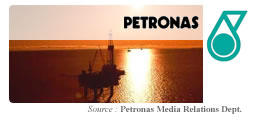 PETRONAS today launched its 2003 Merdeka Campaign in conjunction with Malaysia's 46th Independence Day celebrations.
PETRONAS' 2003 Merdeka Campaign, comprising an enhanced, more elaborate range of initiatives compared to previous years' activities, is aimed at augmenting the Government's Merdeka Month Campaign to nurture and instil the spirit of patriotism and love for the country among all Malaysians.
PETRONAS' efforts this year include:
distribution of RM2 million worth of national flags to members of the public and schools;
fuel sponsorship for the Malay Journalists Association's Jelajah Merdeka 2003 programme;
production of special Merdeka Day 2003 television and print public messages;
Konsert Merdeka KLCC 2003;
Merdeka 2003 Countdown and Fireworks and Light Show at KLCC;
participation in the Merdeka Day March Pass and Float Parade; and
special Jalur Gemilang raising ceremonies at all PETRONAS' offices worldwide on Merdeka Day.
At the launch of the campaign today, PETRONAS Chairman Tan Sri Dato' Seri Azizan Zainul Abidin handed over 500,000 national flags to Hj Mohd Ali Hasbullah, a representative of the PETRONAS Service Station Dealers. The car flags will be distributed to motorists at selected PETRONAS service stations beginning tomorrow.
PETRONAS will also be distributing flags and buntings of various sizes to 352 selected schools nationwide. PETRONAS had earlier bought RM2 million worth of the Jalur Gemilang from the Malaysian Paralympic Council, where the money paid by PETRONAS will help fund the Council's annual activities.
The Malay Journalists Association's Jelajah Merdeka 2003 programme will be flagged off by Senator Datuk Tengku Adnan Tengku Mansor, Minister in the Prime Minister's Department on 17 August at Dataran Merdeka. The programme will see a convoy of about 500 big bikes travelling from State to State beginning from Kuala Lumpur to Sabah and Sarawak and back to Peninsular Malaysia, bringing a special message of national pride and patriotism to the public. The Jelajah Merdeka's itinerary ends with a hand-over of the Jalur Gemilang to the Prime Minister on the eve of Merdeka Day. This is the second time PETRONAS is sponsoring fuel for the programme.
To bring joy to all Malaysians celebrating this year's Merdeka Day, PETRONAS once again organises Konsert Merdeka KLCC 2003 and the Merdeka Day Countdown at the KLCC Esplanade. The free, much bigger and vibrant Merdeka eve concert, to be held in collaboration with Astro, KLCC Holdings Bhd and ExxonMobil, will feature popular local and Indonesian artistes including Siti Nurhaliza, Ella, Jamal Abdillah, Alleycats, Z Chen, VE, Ruffedge, Melly Goeslaw, Yasin, Waheeda, Misha Omar and Ferhad. Winners and participants of the recently concluded and hugely popular Astro Ria's Akademi Fantasia programme are also scheduled to perform.
Later on in the evening, the 2003 Merdeka Day Countdown will be held. This will culminate in a fireworks and light display, planned to be much more elaborate and spectacular than in previous years, following the recent instalment of a new and more sophisticated lighting system at the PETRONAS Twin Towers.
On Merdeka Day, employees of PETRONAS in Malaysia and overseas will observe this special day. In Malaysia, more than 200 employees will take part in the march-pass and float parade. At PETRONAS' regional offices in Malaysia and at all its representative offices overseas, members of staff will hold special flag-raising ceremonies to commemorate Merdeka Day.
PETRONAS hopes that all its efforts will enhance the spirit of patriotism, the love for Malaysia and the understanding of the meaning of "merdeka" among its employees as well as all Malaysians.
The launch of PETRONAS Merdeka Day Campaign, held at the KLCC Esplanade, was also attended by Culture, Arts & Tourism Secretary-General Dato' Mohd Azmi Razak, ExxonMobil Malaysia Chairman Mr Robert Fisher, Astro Director Dato' Hj Badri Hj Masri, KLCC Holdings Group CEO Datuk Ishak Imam Abas, Malaysian Paralympic Council Chief Executive Officer Hj Zainal Abidin Abu Zarin, and Malay Journalists Association President Encik Yazid Othman.
Issued by
Media Relations & Information Department