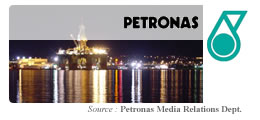 PETRONAS, PETRONAS Carigali Sdn Bhd, Sarawak Shell Bhd recently concluded a Gas Sales Agreement (GSA) with Malaysia LNG Sdn Bhd (MLNG) for the supply of up to 400.4 trillion Btu of gas to the MLNG plant until the year 2020.The GSA effectively extends a similar earlier arrangement between the same parties that had expired in March 2003. Prior to the conclusion of the new GSA, MLNG continued to receive gas under an interim arrangement.
Under the GSA, the gas will be supplied from five dedicated fields offshore Sarawak developed under a production sharing contract in which PETRONAS, PETRONAS Carigali and Sarawak Shell are parties to.
MLNG owns and operates Malaysia's first liquefied natural gas (LNG) plant that produces 8.1 million tonnes of LNG annually (mtpa), mainly for long-term exports to Japan.
The plant is located within the PETRONAS LNG Complex in Bintulu, currently the world's largest integrated LNG facility at a single location with a combined production capacity of 23 mtpa. Apart from the three-train 8.1 mtpa MLNG plant, the Complex also houses the three-train, 7.8 mtpa MLNG Dua plant as well as the two-train, 6.8 mtpa MLNG Tiga plant.
At the GSA signing ceremony held in Kuala Lumpur, PETRONAS was represented by its Vice President of Exploration & Production Business Encik Abdullah Karim, PETRONAS Carigali by its Managing Director/CEO Encik Mohamad Johari Dasri, Sarawak Shell by Shell Malaysia's Chairman Datuk Jonathan Chadwick and MLNG by its Managing Director/CEO Encik Ahmad Nizam Salleh.
Issued by
Media Relations Department