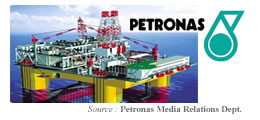 Hanoi, September 22, 2003: PETRONAS, Malaysia's national petroleum corporation, today announced its participation as the official fuel sponsor for the 22nd SEA Games which will take place in Vietnam from 5th to 13th December 2003.
The announcement was made at a sponsorship hand-over ceremony held at the Melia Hotel here by Dr Luong Quoc Dung, Deputy Chairperson of the Committee for Sports & Gymnastics and Head of the Sub-committee for Sponsorship of the SEA Games Organizing Board. PETRONAS' contribution was handed over by its President & Chief Executive Officer Tan Sri Dato Sri Mohd Hassan Marican. Also present at the ceremony were senior officials from the SEA Games Organizing Board and representatives of PETRONAS.
Dr Luong Quoc Dung warmly welcomed PETRONAS as an official sponsor to 22nd SEA Games. "We are happy to announce yet another sponsor from a South-East Asia country, a close neighbour that together with us will take part in the biggest regional sports event. We would like to thank PETRONAS and to wish it a great deal of new successes in Vietnam" he said.
PETRONAS President & CEO, Tan Sri Dato Sri Mohd Hassan Marican re-affirmed PETRONAS' long-term commitment towards enhancing Vietnam's socio-economic development including sports and social investment initiatives. Tan Sri Mohd Hassan said: "We are indeed proud to be part in this prestigious event and to lend our support towards its success."
For additional information please contact:
PETRONAS Vietnam Representative Office