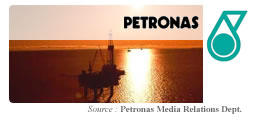 PETRONAS, in collaboration with the Ministry of Education, is bringing its "PETRONAS Tech Tour" — a mobile educational exhibition on Formula One and its technology — to Malaysian schools nationwide in its efforts to educate and create awareness of the Formula One sport and technology among students and school children.
The educational programme, with the theme of "Technology Begins In School : Fast Forwarding Malaysia", was officially launched today by the Director-General of Education, Datuk Abdul Rafie Mahat, at the Sekolah Menengah Kebangsaan USJ 13 in Subang Jaya, Selangor, one of more than 20 schools and venues identified to host the "PETRONAS Tech Tour".
Apart from educating the students on Formula One and its technology, the "PETRONAS Tech Tour" will also highlight PETRONAS' achievements in advanced automotive engineering and related fields as a result of its involvement in this hi-tech and prestigious sporting arena. This, PETRONAS hopes, will inspire more students and school children to consider automotive engineering as one of the fields they would choose when pursuing higher education and career. The programme is also expected to cultivate and enhance interest among the young Malaysians in the Formula One sport.
About 35,000 students from the host and neighbouring schools are expected to benefit from this programme, which kicked off on 10 June 2002 in Johore. Since then, the exhibition has travelled to selected schools in Malacca and Negri Sembilan and will for the next two months make stops at schools and other venues in Kuala Lumpur, Selangor, Perak, Penang, Perlis, Kedah, Kelantan, Terengganu and Pahang.
This educational programme is the second phase of the "PETRONAS Tech Tour". The first phase of the exhibition, launched in November last year, catered to the general members of the Malaysian public and covered 17 major cities in the country. Up to 10 March 2002, the end of its first phase, the exhibition covered a distance of 5,000 kilometres and attracted about 120,000 visitors.
The "PETRONAS Tech Tour" comprises a 55-foot trailer driven by a 10-foot prime mover. The exhibition features the latest Sauber PETRONAS Formula One race car, a Sauber PETRONAS V10 Formula One engine, an information and display area, three interactive information kiosks, a merchandise booth and an integrated audio console. This educational project is made possible with the assistance of Malaysia Shipping Corporation Berhad, Volvo Trucks, Bridgestone Tyres and IBM Computers.
Issued by
Media Relations & Information Department