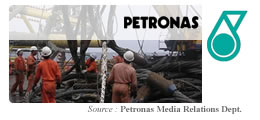 PETRONAS International Corporation Limited, a wholly owned subsidiary of PETRONAS, has on 13th March 2003 completed the acquisition of Mobil Oil Sudan Limited from Mobil International Petroleum Corporation.Mobil Oil Sudan Limited, a company incorporated in Sudan, is involved in the business of retailing and marketing of oil, motor fuels, jet and marine fuels, lubricants and other petroleum products in Sudan. In addition to having a network of service stations throughout the country, the company also owns three petroleum depots — one each in Port Sudan, Khartoum and Gaili. The company is to be re-named PETRONAS Marketing Sudan Limited.
The acquisition of Mobil Oil Sudan Limited signifies another long-term commitment by PETRONAS to enhance its presence in Sudan. The participation in the marketing business in Sudan will not only allow PETRONAS to make available to the consumers its various range of products and services but will also give it the opportunity to share its experience and expertise in retail activities with the Sudanese.
The acquisition will also further pave the way for PETRONAS to add value to its activities in Sudan as well as to strengthen its brand position in that country.
Apart from this latest venture, PETRONAS is a member of a consortium already producing 230,000 barrels per day of oil in Sudan and is also engaged in a number of integrated exploration and production activities.
Issued by
Media Relations & Information Department