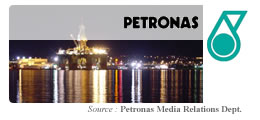 PETRONAS, Malaysia's national petroleum corporation, is pleased to announce that it will race its high-performance GP1 motorcycle engine in the fifth leg of the 2002 World Superbike Championship in Monza on 12 May 2002.
Towards this end, PETRONAS is collaborating with four-time World Superbike champion Carl Fogarty to form a racing team — Foggy PETRONAS Racing — to participate in the Championship beginning Monza, Italy with the all-new machines using the engine jointly developed by PETRONAS and Sauber PETRONAS Engineering AG (SPE). The collaboration with Foggy Racing is initially for a period of five years.
To meet the requirements for the team's entry into the Championship, PETRONAS will also commercialise the road version of the GP1 motorcycle making it the first Malaysian-built superbike.
This development comes only a month after PETRONAS rolled out the prototype of the four-stroke, three-cylinder 989cc engine fitted in the chassis of a prototype motorcycle at the Sepang F-1 Circuit, Malaysia in October this year. The engine is now undergoing further developments to adapt to the World Superbike regulations.
Work on the GP1 engine was undertaken by Swiss-based SPE, a 60:40 joint venture between Sauber and PETRONAS, since July 2000. The SPE project team, comprising a group of Sauber and PETRONAS' engineers, successfully conducted the first firing of the engine in December of last year and the prototype was unveiled in April 2001 in Suzuka, Japan, before the opening of the 2001 Moto GP season. The prototype was further enhanced before the October roll-out at Sepang.
The project is a manifestation of PETRONAS' commitment in developing and nurturing indigenous skills in the high-level automotive engine design and development as an extension of its involvement as a sponsor of the Sauber PETRONAS Formula One Team.
Further details will be announced at the team launch scheduled to be held in January in Malaysia.
Issued by
Legal & Corporate Affairs Division