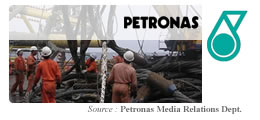 PETRONAS has discovered a new gas field, the F2 Attic, in the offshore Block SK310 about 130 kilometres northwest of Miri, Sarawak.The F2 Attic-1 exploration well, located in a water depth of 91 metres, was spudded on 9 September 2004 and reached a final total depth of 2,400 metres below sea level on 23 September 2004.
The well encountered significant gas accumulation in a limestone reservoir. A single production test was conducted at the well, which resulted in a flow rate of 31 million standard cubic feet of gas per day, with seven per cent carbon dioxide and 35 ppm hydrogen sulphide.
Other gas fields in the vicinity of the F2 Attic discovery are B11, B12 and F38.
Issued by
Media Relations & Information Department