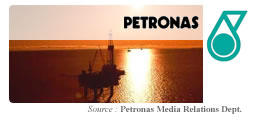 Petroliam Nasional Berhad (PETRONAS), the national petroleum corporation of Malaysia, has discovered a new oil field offshore Vietnam.
The discovery was made through the Topaz North-1X exploration well in Blocks 01 and 02, situated about 168 kilometres offshore Vietnam. The Topaz North Field is about 13 km east of the Ruby Field which is currently producing about 23,000 barrels of oil per day (BPD).
The Topaz North-1X well was tested at a depth of 1,670 metres and produced 2,300 BPD of oil from the Miocene formation. PETRONAS plans to acquire 3D seismic data over the area and to conduct appraisal drilling to obtain additional information to formulate the field's development plan.
Prior to the drilling of Topaz North-1X well, PETRONAS had also drilled the appraisal well Emerald-2X, which successfully proved additional reserves of the Emerald Gas Field in the blocks. PETRONAS is currently in consultation with PETROVIETNAM on the development plans for the gas field.
PETRONAS Carigali (Vietnam) Sdn Bhd operates Blocks 01 and 02 with PETROVIETNAM Exploration and Production Company (PVEP) as its partner.
Issued by
Legal & Corporate Affairs Division