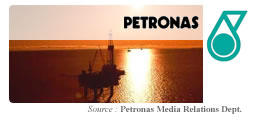 PETRONAS Carigali (Turkmenistan) Sdn Bhd, a subsidiary of PETRONAS engaged in the exploration and production activities in Turkmenistan, has discovered oil and gas reserves in the Turkmen sector of the Caspian Sea.
The company recently completed drilling its fourth well, the East Livanov 2A, in offshore Block 1. Three tests conducted at the well resulted in the flow rate of 14,176 barrels of oil and 19.05 million standard cubic feet of gas respectively per day.
PETRONAS is encouraged with the test results, which support the view of high prospectivity in the Turkmen sector of the Caspian Sea. The company will undertake further assessment to confirm the commercial viability of the discovered reserves.
PETRONAS Carigali Turkmenistan was awarded a 100 per cent interest in Block 1 under a Production Sharing Contract signed with the government of Turkmenistan in July 1996. The PSC was the first to have been awarded by the government of Turkmenistan after the formation of the Commonwealth of Independent States. The company had drilled three wells previously in the block which indicated significant hydrocarbon discoveries.
PETRONAS' venture into Turkmenistan is part of the corporation's globalisation drive embarked on since the early 1990s to augment Malaysia's oil and gas reserves as well as to give international exposure to its employees. Currently, PETRONAS has business operation in 32 countries.
Issued by
Media Relations & Information Department