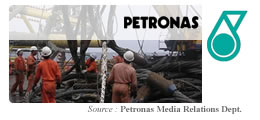 Ba Ria – Vung Tau, Vietnam, 6 January 2003: The polyvinyl chloride (PVC) plant of Phu My Plastics & Chemicals Company Ltd (PMPC), a joint venture between PETRONAS, PETROVIETNAM and TRAMATSUCO, was officially opened today by the Chairman of Ba Ria – Vung Tau People's Committee, His Excellency Nguyen Tuan Minh.
The official opening ceremony of the plant was also attended by several Government Ministers of Vietnam, President & Chief Executive of PETRONAS Tan Sri Dato' Mohd Hassan Marican, President and CEO of PETROVIETNAM Mr Nguyen Xuan Nham, General Director of TRAMATSUCO Mr Le Hong Phuoc and other senior officials of PMPC's joint-venture partners.
The PVC plant, with a production capacity of 100,000 metric tons per year (MPTA), is strategically located within the petrochemical area of Ba Ria – Vung Tau Province about 85 kilometres southeast of Ho Chi Minh City. It is producing PVC resins of various grades, which are the necessary raw materials for the manufacture of a variety of plastic products. The total capital investment is US$70 million.
PETRONAS, Malaysia's national petroleum corporation, holds a 50 per cent equity in the joint venture. Its Vietnamese counterpart, PETROVIETNAM, has a 43 per cent stake, while TRAMATSUCO, the trading arm of the People's Committee of Ba Ria – Vung Tau Province, owns the remaining seven per cent equity.
"We are pleased that the project was completed within schedule and we hope to double its capacity to 200,000 MTPA in the near future to meet the growing demand in line with the rapid economic growth of Vietnam," said Encik Kalantar Mastan Mohamed, the General Director of PMPC.
The import substitution project now sells about 70 per cent of its output to the domestic market while the remaining quantity is exported to customers in the region. The plant sources its feedstock, vinyl chloride monomer (VCM), from PETRONAS' joint venture VCM plant in Kertih, Malaysia.
The project is also expected to help spur spin-offs in plastic fabrication and end-product manufacturing industries for both local and export markets. Apart from the spin-offs, the project also involves the transfer of technical expertise to local employees.
Today's ceremony marks another milestone in the relationship between all PMPC's partners. It also reaffirms the partners' commitment to the long-term growth and development of the plastics industry in Vietnam.
PETRONAS' President and Chief Executive Tan Sri Dato' Mohd Hassan, speaking at the ceremony, said: "Vietnam holds a very special significance to PETRONAS. Together with PETROVIETNAM as our strategic partner, we have ventured into several projects, providing us the opportunity to contribute in a small way to the development of Vietnam's oil and gas industry in particular and its economy in general.
"Today, we are witnessing another success story between PETRONAS and PETROVIETNAM – this time with the addition of TRAMATSUCO. I would like to record our deepest appreciation to our Vietnamese partners for making this joint venture project a reality," he added.
PETRONAS' involvement in Vietnam's petrochemical industry began in 1995 when it was given a mandate by the Government of Vietnam to jointly conduct a study on the development of Vietnam's Petrochemical Master Plan. The study provided Vietnam with a blueprint for the systematic development of its petrochemical industry. One of the projects identified in the master plan was the development of the PVC industry. To jumpstart Vietnam's petrochemical industry, PMPC was incorporated to construct and operate a PVC plant to produce high quality PVC resin as feedstock to support the needs of plastic manufacturers in Vietnam.
PETRONAS' subsidiary, OGP Technical Services Sdn Bhd, was appointed the project's management consultant. PMPC also appointed OGP, in collaboration with PETROVIETNAM Manpower Training College, to manage and provide training services for PMPC's employees in plant operation and maintenance; health, safety and environment; as well as English language courses.

Tan Sri Mohd Hassan said PETRONAS would like to be seen as a partner that has been able to contribute to the well being of Vietnam and its people by adding value to the country's oil and gas resources as well as helping in the development of its human capital."We have and will continue to contribute to the socio-economic development of Vietnam especially in the field of education, technology transfer, employment opportunities as well as human resource and skills development.
"As part of our effort to help build a strong human resource base for the country's petroleum industry, we are providing educational sponsorship to deserving Vietnamese students to pursue their studies at Universiti Teknologi PETRONAS in Malaysia," he added.
Issued by
Media Relations & Information Department