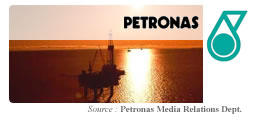 Petroliam Nasional Bhd (PETRONAS), the national petroleum corporation of Malaysia, and joint
venture partners Lasmo Oil Pakistan Limited and Government Holdings (Pvt) Ltd are pleased to
announce their first gas discovery in Pakistan.
This encouraging discovery was made on 7 August 2001 at the Rehmat-1 Well in Block 2769-4 (Mubarak Block) in Sindh Province. Rehmat-1 is the first exploratory well drilled by the consortium comprising PETRONAS' subsidiary PETRONAS Carigali (Pakistan) Ltd, Lasmo and Government Holdings. PETRONAS Carigali Pakistan is the operator of the block with 57 per cent equity while Lasmo and Government Holdings hold the remaining 38 per cent and five per cent interests respectively. The well is located about 65 kilometres east of Sukkur town.
Rehmat-1 well was spudded on 25 May 2001 and reached a total depth of 3,536 metres on 21 July. A Drill Stem Test carried out has successfully produced gas at a maximum rate of 25.6 million standard cubic feet per day (mmsfd). Initial gas analysis indicates that the gas has a small amount of carbon dioxide and negligible hydrogen sulfide. Further detailed analysis is being carried out.
PETRONAS Carigali Pakistan and its partners are optimistic of the Rehmat-1 discovery. More exploration work in terms of additional seismic data and possibly new wells will be required to determine the gas volume.
Apart from the Mubarak Block, PETRONAS Carigali Pakistan is also the operator of two other oil and gas ventures in Sindh and Balochistan provinces, namely the East Kadanwari Block and the Mehar Block.
Issued by
Legal & Corporate Affairs Division