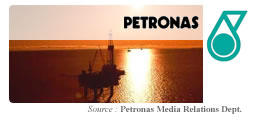 PETRONAS, through its subsidiary Asean LNG Trading Co. Ltd, today signed a Gas Sales Agreement with British Gas Trading Ltd, a subsidiary of Centrica plc of the United Kingdom, to supply up to 3.0 billion cubic metres a year of natural gas for 15 years beginning 2007.
The deal with Centrica marks a major breakthrough for PETRONAS in its quest to enter the UK natural gas market and at the same time will enhance its overall position in the global LNG business. PETRONAS currently has long-term contracts mainly with traditional customers in the North Asian market, meeting about half of Taiwan's LNG needs, 25 per cent of Japan's needs and 20 per cent of Korea's requirements.
Under the agreement signed today, PETRONAS will supply the gas to Centrica via the liquefied natural gas (LNG) receiving terminal being developed by Dragon LNG at Milford Haven, Wales. PETRONAS will deliver LNG from its portfolio of current and future supply sources to Milford Haven via tankers owned by its subsidiary Malaysia International Shipping Corporation Bhd. At the terminal, the LNG will be re-gasified before it is supplied to Centrica, which in turn will supply the gas to its British Gas customers.
PETRONAS has 30 per cent equity in Dragon LNG, while BG Group and Petroplus have 50 per cent and 20 per cent stakes respectively. The terminal will be able to process up to 6.0 billion cubic metres of gas a year and is scheduled to start operation by 2007. The 3.0 billion cubic metres of natural gas to be supplied to Centrica will make up the entire 50 per cent of the terminal's planned throughput capacity that PETRONAS intends to use, under a separate agreement reached between the partners. The other half of the capacity will be used by BG Group.
PETRONAS is currently the world's largest LNG capacity owner. Apart from its Malaysian production facility in Bintulu, Sarawak and the Milford Haven project, PETRONAS has a 35.5 per cent stake in the Egyptian LNG (ELNG) Project. The ELNG Project will receive its natural gas supply from an Egyptian gas concession equally owned by PETRONAS and BG Group. Earlier this year, PETRONAS also signed a shareholders agreement for a 20 per cent stake in Pars LNG, a joint venture to develop an LNG production facility in Iran.
Centrica was formed in 1997 after the de-merger of British Gas plc into Centrica plc and BG plc. Centrica is a leading provider of energy and essential services in the UK, Europe and North America. It is the largest supplier of residential gas and electricity in the UK and a leading supplier of energy to Britain's commercial sector.
For PETRONAS, the deal with Centrica and its proposed investments in the UK and Egypt provide another link to its gas business value chain. This will not only help establish its position in the Atlantic Basin's LNG activities but will also enhance its overall standing in the global LNG business.
Issued by
Media Relations & Information Department